My Blog
Posts for: October, 2017
By David Van Appledorn, DDS, PC
October 27, 2017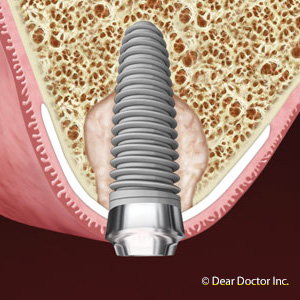 Losing a tooth from disease or accident can be traumatic. The good news, though, is that it can be replaced with a life-like replica that restores your smile. One of the most popular and durable solutions is a dental implant, which replaces not only the root of the tooth but the crown as well.
But there's a possible wrinkle with implants — for accurate placement there must be a sufficient amount of bone around it. This could be a problem if you've been missing the tooth for sometime: without the stimulus provided by a tooth as you chew, older bone cells aren't replaced at an adequate rate. The bone volume gradually diminishes, as up to 25% of its normal width can be lost during the first year after tooth loss. A traumatic injury can damage underlying bone to an even greater extent.
There is a possible solution, but it will require the services of other specialists, particularly a periodontist trained in gum and bone structure. The first step is a complete examination of the mouth to gauge the true extent of any bone loss. While x-rays play a crucial role, a CT scan in particular provides a three-dimensional view of the jaw and more detail on any bone loss.
With a more accurate bone loss picture, we can then set about actually creating new bone through grafting procedures. One such technique is called a ridge augmentation: after opening the gum tissues, we place the bone graft within a barrier membrane to protect it. Over time the bone will grow replacing both the grafting material and membrane structure.
Once we have enough regenerated bone, we can then perform dental implant surgery. There are two options: a "one-stage" procedure in which a temporary crown is placed on the implant immediately after surgery; or a "two-stage" in which we place the gum tissue over the implant to protect it as it heals and bone grows and attaches to it. In cases of pre-surgical bone grafting, it's usually best to go with the two-stage procedure for maximum protection while the bone strengthens around it.
Necessary preparation of the bone for a future dental implant takes time. But the extra effort will pay off with a new smile you'll be proud to display.
If you would like more information on special situations with dental implants, please contact us or schedule an appointment for a consultation.
By David Van Appledorn, DDS, PC
October 12, 2017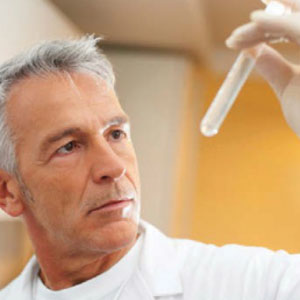 Saliva probably doesn't rate high on your amazement meter. You're more likely to notice its absence and the dry irritation that results.
But you might be more impressed with this unsung bodily fluid if you knew all the things it does. It's definitely a multi-tasker, performing a number of jobs (including aiding in digestion) that not only keep your oral health on track, but your general well-being too. And there are even new testing methods where saliva may even tell us when you're not doing so well.
Here are 3 more tasks your saliva is doing for your mouth right now that truly makes it amazing.
Cleansing. Your teeth's chewing action shreds food so it's easier to digest. But that also leaves behind tiny particles in your mouth. Bacteria feast on these particles (especially carbohydrates like sugar) and produce acid as a byproduct, which can increase your risk of tooth decay. Saliva serves as a kind of "rinse cycle" for your mouth, helping to wash a good bit of these errant particles down your throat and away from hungry bacteria.
Defense. Speaking of bacteria, your mouth is home to millions of them. While most are harmless or even beneficial, a fraction can harm your teeth and gums. Saliva is your first line of defense, emitting an antibody known as Immunoglobulin A that targets these bacteria. Saliva also produces an antibacterial substance called lyzozyme that prevents bacteria from growing.
Enamel Protection. Although it's the strongest substance in the body, your teeth's enamel can't withstand the effects of mouth acid, the by-product of bacterial feeding and growth. Acid levels naturally rise after eating; but even this sudden rise can begin the process of demineralization where minerals in enamel dissolve. Saliva saves the day by first neutralizing the acid and restoring the mouth's normal pH in about thirty minutes to an hour. It also helps restore minerals in enamel, a process called remineralization. It's all in a day's work for this remarkable fluid.
If you would like more information on the importance of saliva to oral health, please contact us or schedule an appointment for a consultation. You can also learn more about this topic by reading the Dear Doctor magazine article "Saliva: How it is used to Diagnose Disease."