My Blog
Posts for: February, 2018
By David Van Appledorn, DDS, PC
February 17, 2018
As dentists, we often see other mouth problems besides those with teeth and gums. One of the most common is cracking around the corners of the mouth. Although usually not serious, it can be irritating and uncomfortable.
Medically known as angular cheilitis (literally "an inflammation of the angles of the lip"), it's also called perleche, derived from the French lecher, "to lick." The latter moniker aptly describes the tendency of sufferers to compulsively lick the sores to relieve irritation, which actually can make things worse.
Perleche has a number of possible causes, mostly from in or around the mouth (although systemic diseases or medications can cause it on rare occasions). It's often found among younger people who drool during sleep or older people with deep wrinkles along the sides of the mouth that increase the chances of dryness and cracking. Long-term wind or cold exposure, ill-fitting dentures or a lack of back teeth (which help support facial structure) may also contribute to the condition.
Patients with perleche can also develop yeast infections from a strain called candida albicans. The infection can spread through the whole mouth, significantly increasing the chances of physical discomfort.
Treating perleche often involves topical ointments with inflammation-reducing steroids and zinc oxide, which has antifungal properties, to provide an environmental barrier during the healing process. If a yeast infection occurs, we may treat it with oral or topical antifungal medication like Nystatin for the whole mouth and chlorhexidine rinses, which has antibacterial properties.
It also helps to adopt a few preventive measures that can minimize the occurrence of perleche. If you wear dentures, for example, cleaning them often (including, if necessary, with chlorhexidine) and leaving them out at night reduces bacterial and fungal growth. We can also see if your dentures are fitting properly. Replacing missing teeth provides better facial support and could minimize wrinkling around the mouth. And, of course, keeping up daily brushing and flossing helps ensure a healthy and disease-free mouth.
If you're experiencing cracked mouth corners, let us know at your next appointment. With our help and of other medical professionals we may be able to give you relief from this irritating condition.
If you would like more information on gaining relief from angular cheilitis, please contact us or schedule an appointment for a consultation. You can also learn more about this topic by reading the Dear Doctor article "Cracked Corners of the Mouth."
By David Van Appledorn, DDS, PC
February 02, 2018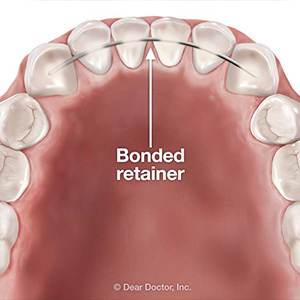 A lot of time and effort goes into straightening your smile. But there's a possibility it might not stay that way—and all that hard work could be lost. The same natural mechanism that enables your teeth to move with braces could cause them to revert to their old, undesirable positions.
So for a little while (or longer for some people) you'll need to wear a retainer, an appliance designed to keep or "retain" your teeth where they are now. And while the removable type is perhaps the best known, there's at least one other choice you might want to consider: a bonded retainer.
Just as its name implies, this retainer consists of a thin metal wire bonded to the back of the teeth with a composite material. Unlike the removable appliance, a bonded retainer is fixed and can only be removed by an orthodontist.
Bonded retainers have several advantages. Perhaps the most important one is cosmetic—unlike the removable version, others can't see a bonded retainer since it's hidden behind the teeth. There's also no keeping up with it—or losing it—since it's fixed in place, which might be helpful with some younger patients who need reminding about keeping their retainer in their mouth.
There are, however, a few disadvantages. It's much harder to floss with a bonded retainer, which could increase the risks of dental disease. It's also possible for it to break, in which case it will need to be repaired by an orthodontist and as soon as possible. Without it in place for any length of time the teeth could move out of alignment.
If you or a family member is about to have braces removed, you'll soon need to make a decision on which retainer to use. We'll discuss these options with you and help you choose the one—removable or bonded—that's right for you.
If you would like more information on bonded retainers, please contact us or schedule an appointment for a consultation. You can also learn more about this topic by reading the Dear Doctor article "Bonded Retainers: What are the Pros and Cons?"