My Blog
Posts for: February, 2020
By David Van Appledorn, DDS, PC
February 20, 2020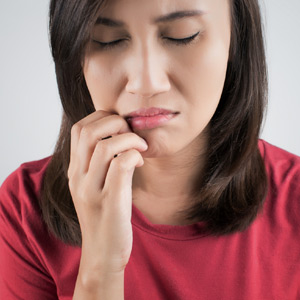 Somewhere between bites during a recent meal, the inside of your cheek found itself in the way of your teeth. You winced with pain at the resulting bite, and while it was sore for a day or two it seemed to heal over. Now, though, you're noticing this same area of your cheek gets in the way of your teeth a lot more often, with more bites and sores.
What's likely happened is that you have developed a traumatic fibroma. When the soft tissues of the inner cheek, lips or tongue heal after being injured, a small bit of fibrous tissue composed of the protein collagen forms like a callous over the bite wound to protect it after it heals. If, however, the process is interrupted by another bite, the fibrous tissue that subsequently forms may be thicker and thus more raised on the surface of the skin. This higher profile makes it more likely the site will be involved in repeated episodes of biting.
If the fibroma continues to be a problem, it can be solved with a simple surgical procedure. A surgically-trained dentist or oral surgeon will remove portions of the fibroma (usually with local anesthesia) to flatten the skin profile, and then close the resulting wound with a couple of stitches unless a laser was used. Any discomfort after the procedure can usually be managed with a mild anti-inflammatory drug like aspirin or ibuprofen, and the site should heal in just a few days to a week.
Although the vast majority of fibromas aren't dangerous, it's routine practice to have the excised tissue biopsied for abnormalities. More than likely the fibroma tissue will be normal; but by having the fibroma removed and examined, you'll gain peace of mind about your oral health. In the process, you'll also eliminate a bothersome and painful problem.
If you would like more information on mouth sores, please contact us or schedule an appointment for a consultation. You can also learn more about this topic by reading the Dear Doctor magazine article "Common Lumps and Bumps in the Mouth."
By David Van Appledorn, DDS, PC
February 10, 2020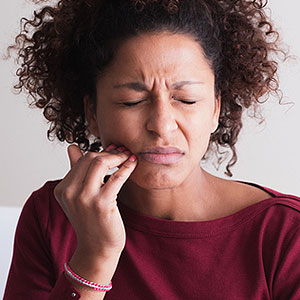 A loose primary ("baby") tooth is often a cause for celebration. A loose permanent tooth, however, is a cause for concern. A permanent tooth shouldn't even wiggle.
If you have a loose tooth, it's likely you have a deeper dental problem. Here are the top underlying causes for loose teeth.
Gum disease. Teeth are held in place by an elastic tissue called the periodontal ligament. But advanced periodontal (gum) disease, a bacterial infection usually caused by film buildup on teeth called dental plaque, can damage the ligament and cause it to detach. If it's not treated, it could lead to tooth loss.
Bite-related trauma. A normal bite helps balance out the forces generated when we chew so they don't damage the teeth. But if a misaligned tooth protrudes higher from the jaw, the opposing tooth will likely create more downward pressure on it while chewing. This can stress the tooth's supporting ligament to the point of looseness.
Self-inflicted trauma. While they may be trendy, tongue jewelry can cause dental damage. A wearer who clicks the "barbell" of a tongue stud against their teeth could be creating conditions conducive for gum damage and bone loss, which can cause tooth looseness. Similarly, taking orthodontics into your own hands could also damage your teeth, especially if you have undiagnosed gum disease.
Genetics. Although you can't prevent it, the type of resistance or susceptibility you inherited from your parents (as well as your dental anatomy) can cause you dental problems. Thinner gum tissues, especially around the roots, can make you more susceptible to gum disease or dental trauma, which in turn could contribute to tooth looseness.
There are things you can do to lessen your chance of loose teeth. Brush and floss every day to remove disease-causing bacterial plaque and see a dentist regularly for cleanings to reduce your risk of gum disease. If you have any misaligned teeth, consult with an orthodontist about possible treatment. And avoid oral jewelry and DIY orthodontics.
If you do notice a loose tooth, see us as soon as possible. We'll need to diagnose the underlying cause and create a treatment plan for it. We may also need to splint the tooth to its neighbors to stabilize it and reduce your risk of losing it permanently.
If you would like more information on tooth mobility, please contact us or schedule an appointment for a consultation. You can also learn more about this topic by reading the Dear Doctor magazine article "When Permanent Teeth Become Loose."