My Blog
Posts for: June, 2021
By David Van Appledorn, DDS, PC
June 14, 2021
Temporomandibular joint disorder (TMD) is an umbrella term for a number of chronic jaw problems. These conditions cause recurring pain for 10 to 30 million Americans, especially women of childbearing age.
But even after decades of treatment and research, a full understanding of TMD's underlying causes eludes us. That doesn't mean, however, that we haven't made progress—we have indeed amassed a good deal of knowledge and experience with TMD and how best to treat it.
A recent survey of over a thousand TMD patients helps highlight the current state of affairs about what we know regarding these disorders, and where the future may lie in treatment advances. Here are a few important findings gleaned from that survey.
Possible causes. When asked what they thought triggered their TMD episodes, the top answers from respondents were trauma, stress and teeth clenching habits. This fits in with the consensus among experts, who also include genetic disposition and environmental factors. Most believe that although we haven't pinpointed exact causes, we are over the target.
Links to other disorders. Two-thirds of survey respondents also reported suffering from three or more other pain-related conditions, including fibromyalgia, rheumatoid arthritis and chronic headaches. These responses seem to point to possible links between TMD and other pain-related disorders. If this is so, it could spur developments in better diagnostic methods and treatment.
The case against surgery. Surgical procedures have been used in recent years to treat TMD. But in the survey, of those who have undergone surgery only one-third reported any significant relief. In fact, 46% considered themselves worse off. Most providers still recommend a physical joint therapy approach first for TMD: moist heat or ice, massage and exercises and medications to control muscle spasms and pain.
These findings underscore one other important factor—there is no "one size fits all" approach to TMD management. As an individual patient, a custom-developed action plan of therapy, medication, and lifestyle and diet practices is the best way currently to reduce the effects of TMD on your life.
If you would like more information on TMD management and treatment, please contact us or schedule an appointment for a consultation. You can also learn more about this topic by reading the Dear Doctor magazine article "Chronic Jaw Pain and Associated Conditions."
By David Van Appledorn, DDS, PC
June 04, 2021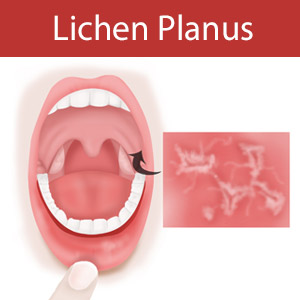 Most of what goes on inside our mouths—good or bad—is fairly predictable. But every now and then, people encounter something out of the ordinary. A good example is lichen planus.
Lichen planus are rare skin lesions that can occur on various parts of the skin, including inside the mouth. The name comes from their lacy appearance, which resembles a fungus that grows on rocks or trees called lichen.
Being similar in appearance, though, is all that lichen planus has in common with its fungal namesake. It's believed that the sores are caused by a reaction of the immune system mistaking some of the body's cells as foreign.
But don't let the exotic sounding name alarm you—true lichen planus is considered a benign mouth sore. You may not even realize you have it until your dentist notices and points it out. But the lesions can sometimes cause mild pain or burning, especially if they occur near the gums or if you indulge in spicy or acidic foods.
As we said, these lesions aren't considered dangerous. But in a small number of cases, oral cancer was found to develop later. It's unclear whether the lesions were related to the cancer, or if what were diagnosed as lichen planus lesions were actually pre-cancerous cells mimicking the appearance of the benign sore.
In any event, your dentist will probably continue to monitor the lesions and possibly conduct regular oral cancer screenings to be on the safe side. You may also want to stop using tobacco or alcohol products to further decrease your risk of oral cancer.
As to managing lichen planus, it starts with a daily habit of brushing and flossing. You'll also want to avoid spicy or acidic foods like citrus fruits, tomatoes, peppers or caffeinated drinks, especially during flareups. If the lesions are causing discomfort, your dentist may also prescribe a topical steroid to apply to them.
Since it's quite possible you won't know if you have lichen planus (as well as other types of mouth sores) unless your dentist observes them, you should keep up regular dental visits. Having your dentist check your entire mouth, not just your teeth and gums, will help both of you stay on top of your oral health.
If you would like more information on mouth sores, please contact us or schedule an appointment for a consultation. You can also learn more about this topic by reading the Dear Doctor magazine article "Lichen Planus."