My Blog
Posts for tag: nutrition
By David Van Appledorn, DDS, PC
March 11, 2020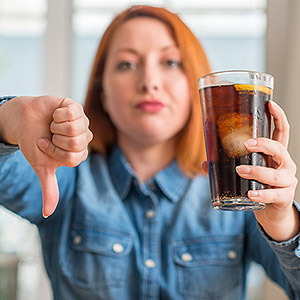 You can find some version of the ever popular kids' meal at most major fast-food restaurants. It's a neat little package: child's size portions of burgers, chicken nuggets or sides—and often a small toy or treat to boot—all tucked into its own colorful cardboard container.
The drive-thru menu board at your favorite fast-food joint gives you plenty of choices to fill out your child's meal. But you may notice something missing on many major chains' kids' menus—the mention of soft drinks as a beverage choice. You can still get one for your child's meal, but the visual cue is no more on the menu board.
None of the "Big Three"—Burger King, McDonald's or Wendy's—post soft drinks as a menu item for their kid's meals. It's the result of an effort by health advocates promoting less soda consumption by children, the leading source of calories in the average child's diet. With its high sugar content, it's believed to be a major factor in the steep rise in child obesity over the last few years.
Sodas and similar beverages are also prime suspects in the prevalence of tooth decay among children. Besides sugar, these beverages are also high in acid, which can erode tooth enamel. These two ingredients combined in soda can drastically increase your child's risk of tooth decay if they have a regular soda habit.
You can minimize this threat to their dental health by reducing their soda consumption. It's important not to create a habit of automatically including sodas with every meal, especially when dining out. Instead, choose other beverages: Water by far is the best choice, followed by regular milk. Chocolate milk and juice are high in sugar, but they're still a healthier choice than sodas due to their nutrient content.
Keeping sodas to a minimum could help benefit your child later in life by reducing their risk for heart disease, diabetes and other major health problems. It will also help them avoid tooth decay and the problems that that could cause for their current and future dental health.
If you would like more information on these and other effective practices for protecting your child against tooth decay, please contact us or schedule an appointment for a consultation.
By David Van Appledorn, DDS, PC
March 27, 2018
Want to give your kids the best start possible for a lifetime of good dental health? The most important thing you can do is train them in effective brushing and flossing. It's more than having a nice smile and fresh breath: these hygiene tasks remove the daily buildup of bacterial plaque, the primary cause for both tooth decay and periodontal (gum) disease, which are most responsible for poor oral health.
But those aren't the only habits they should be cultivating. Here are 3 tips for helping your child develop great dental health habits.
Encourage healthy eating. Teeth and gums are like other parts of the body: they need the "building blocks" found in nutritious foods to help grow strong, healthy tissues. By focusing on a diet leaner on processed items and richer in whole, less-processed vegetables, meats and dairy products, you'll be helping your child build strong defenses against dental disease.
Keep sugary snacks under control. Of all the items in your child's diet, sugar could have the greatest impact on their teeth. Disease-causing bacteria thrive on this particular carbohydrate, multiplying and producing mouth acid—the main enemy of tooth enamel—as a byproduct. So, limit sugary snacks as much as possible, opting instead for more nutritional between-meal treats. In fact, try to make sure they only consume sugary treats at mealtime, not in between.
Encourage an end to thumb-sucking or pacifiers by age 3. Most infants and very young children suck their thumbs or, alternatively, a pacifier. There's no harm in this habit unless it extends into later childhood where it could affect their bite. You can avoid this outcome by encouraging your child with mainly positive reinforcement to stop sucking their thumbs or other objects before their third birthday. Your dentist can also help with tips and support in those efforts.
If you would like more information on dental care for your child, please contact us or schedule an appointment for a consultation. You can also learn more about this topic by reading the Dear Doctor magazine article "Help your Child Develop the Best Habits for Oral Health."
By David Van Appledorn, DDS, PC
March 27, 2015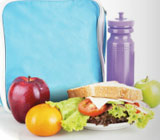 There's a new focus on children's nutrition by both parents and schools; in fact, many school districts have instituted policies that encourage children to eat more nutritional foods and snacks. Regarding snacks in particular, the United States Department of Agriculture (USDA) recently released new regulations for the Smart Snacks in Schools Initiative that call for more whole grains, fruits and vegetables and less fat, sugar and salt in snack foods.
These regulations will help fight obesity and related medical problems like diabetes, but many dentists don't believe they go far enough in one particular area — the consumption of sugar, a major cause of tooth decay. Dentists also feel the guidelines are too generous in the amount allowed for highly acidic beverages like sodas, ice tea, sports drinks and energy drinks that increase the risk of enamel erosion and tooth decay.
You may also be concerned about how much sugar your child is eating, and for the most part you're able to manage their intake when they're at home. But what can you do to influence their snack choices and habits when they're at school?
For one thing, get involved with your child's school and with other parents. Let school officials know your concerns about the sugar, fat and salt content of the snacks offered in the school's vending machines and food service, and work to implement policies that discourage less nutritional snack foods. You should also set limits for your children about what snacks they can buy at school — along with explaining why they should avoid certain kinds of snack foods in favor of others. And, be sure to send healthy snacks along with them when they go to school that are bite-sized and fun.
It's also important to help your children limit how often they snack and avoid "grazing" — nibbling on snack food for hours on end. Grazing can cause the mouth to be continuously acidic and never allow saliva an opportunity to neutralize the acid. You can also suggest similar policies to school officials, such as shutting down vending machines at certain times of the day.
Nutrition is essential to good health, in the mouth as well as the rest of the body. As a parent, it's your job to see that your children eat nutritiously — enlisting their schoolâ??s help will make that job a little easier.
If you would like more information on dental-friendly snacking, please contact us or schedule an appointment for a consultation. You can also learn more about this topic by reading the Dear Doctor magazine article "Snacking at School."